SOME PROJECTS I'VE BUILT AT HOME FOR FUN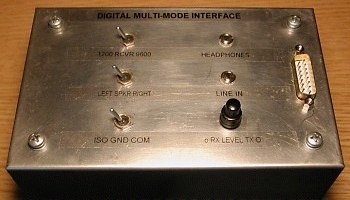 MULTI-MODE RADIO/COMPUTER AUDIO INTERFACE
Personal computers have found their way into almost every aspect of life, including ham radio. Low cost or free software makes experimenting with non-voice modes such as APRS, PSK31, RTTY, SSTV, and WSJT as easy as downloading a piece of software! Follow the evolution of my home made computer sound card to radio interface as it goes from proof of concept to a versatile station accessory by clicking on the picture!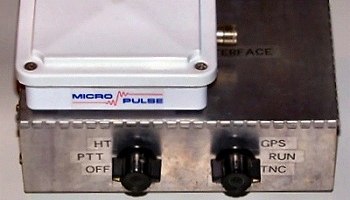 APRS POSITION TRACKER
APRS (Automatic Position Reporting System) is a relatively new part of Amateur Radio. APRS integrates GPS technology, packet radio, and amateur radio frequencies with the internet to provide world-wide, virtually real-time position reporting. I designed and built this unit for less than $100 using some surplus E-bay bargains along with an off the shelf kit and a home made TTL to RS232 level converter. Click on the picture for more details!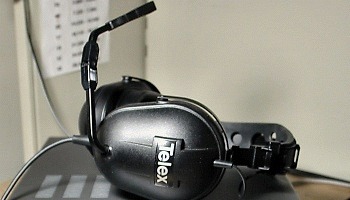 TELEX HEADSET ADAPTER FOR KENWOOD RADIOS
I purchased this Telex headset on Ebay for less than $25! With over 20 dB of passive noise isolation and a noise-cancelling mic, it would be ideal for contesting. I built a very simple and inexpensive adapter to interface it with my Kenwood TS-2000X. Not being content at leaving the headset at home, I then built another simple adapter to use it with my Kenwood TH-F6A handie talkie. Click on the picture to see just how easy it is to get these on the air!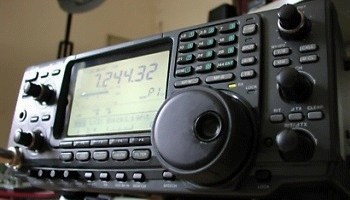 ICOM IC-746 LCD BACKLIGHT REPAIR
Many Icom IC-746's (including mine) suffered from premature display backlight failures. The root cause turns out to be poor thermal design of the backlight inverter circuit, with insufficient heatsinking of the pass transistor. Check out the details and some modifications to permanently rectify this issue! Click on the image for the full story!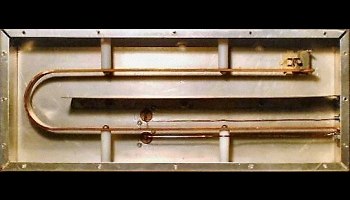 50MHZ RF BANDPASS FILTER
Living near a high density RF site can make weak signal reception next to impossible due to front end receiver overload. After buying a home located near such site, I needed to find a solution to all the RF pollution! This folded quarter wave 6 meter bandpass filter did the trick. Click on the photo for details and test results.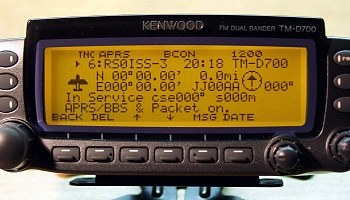 KENWOOD TM-D700 FREQUENCY DRIFT ISSUES
This is a review of frequency stability issues I have seen with these radios. I have owned a total of three TM-D700's over a four year period, and all of them have exhibited the same problem. So I feel it's safe to assume this is a design flaw and not a quality control issue. Shame on Kenwood for designing a product with such poor frequency stability! Click on the photo of the D700 to read all about it!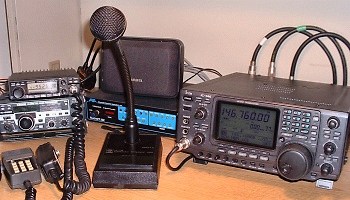 DESK MIC FOR ICOM RADIOS
Under Construction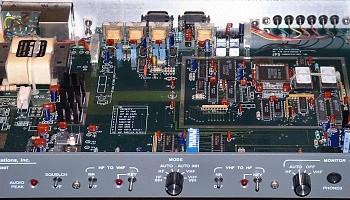 JPS COMMUNICATIONS RRU-100
The JPS RRU-100 radio retransmission unit is designed to interface HF and VHF radio equipment. Designed to offer unidirectional or bidirectional cross-band repeating (known as interoperability in the commercial sector), the RRU-100 also features DSP noise reduction and voice detecting "smart squelch"! After being unable to find instructions for this Ebay item anywhere, a little reverse engineering gets this thing on the air! Click on the image to learn more.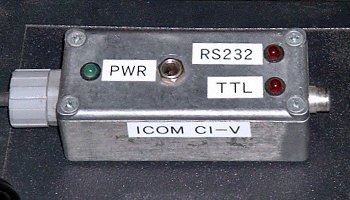 ICOM CI-V LEVEL CONVERTER
Interfacing Icom's amateur radio equipment to a personal computer requires the use of Icom's grossly over-priced CI-V interface. This simple, low-cost, and easy to build interface can be assembled for $20 or less! Click on the picture of the interface to see what it takes to get your Icom and PC to speak the same language!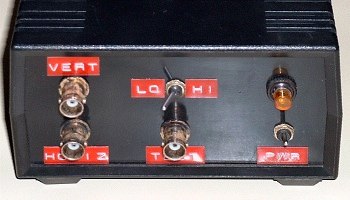 DYNAMIC COMPONENT ANALYZER
Commercial dynamic component analyzers, such as the Huntron Tracker, are priced well beyond the budgets of most electronics experimenters. However, if you already own an oscilloscope, it only takes a couple of resistors, 2 switches, and 1 transformer to build an adapter which will turn your 'scope into a dynamic component analyzer. Chances are you've already got all the parts laying around in your junk box! Click on the image to learn how to build one.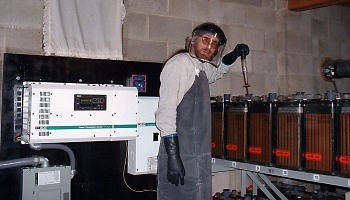 5.5 KVA WHOLE HOUSE UPS
One of the drawbacks to living in a rural area is the increased possibility of power outages. Whether caused by downed trees or nesting squirrels, outages were so frequent I was considering buying an emergency standby generator. This project started when I got a call one evening from a friend with that fateful question, "Hey, you want some batteries?" Click on the photo to see why I don't notice when the power goes out any more!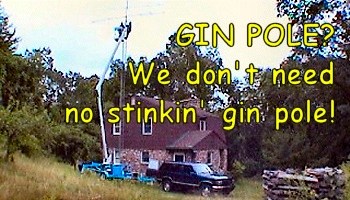 KA1MDA TOWER
A collection of photos spanning 3 years which document the KA1MDA tower installation. DISCLAIMER: THIS IS NOT INTENDED TO BE TAKEN AS AN INSTRUCTIONAL PRESENTATION OF HOW TO INSTALL A TOWER! It simply documents the way in which I chose to put up my tower. Click on the picture for more details!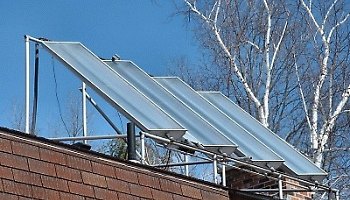 SOLAR HOT WATER SUN TRACKING CONTROL
These used tracking solar panels became available for a reasonable price after a nearby lightning strike destroyed the single board computer which ran the system, and the owner discovered the manufacturer was long out of business. Who needs a replacement SBC when you've got a couple of surplus Allen Bradly SLC-100's laying around? This project puts all my skills to the test- PLC programming, circuit design, mechanical layouts, and even plumbing! Click on the image for more info.
A FEW INDUSTRIAL PROJECTS I'VE DESIGNED & BUILT FOR WORK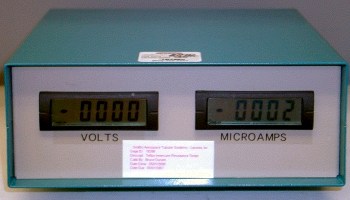 HIGH VOLTAGE DIVIDER & METER
A certain process required accurately monitoring the output voltage and current of a 5 Kv power source. Unfortunately, accuracy of the power supply's built-in analog meters was not up to the process requirements. I built this 100:1 voltage divider to solve the problem. Built-in digital metering measures upto 7.5 Kv and 5000 uA. Click on the picture for details.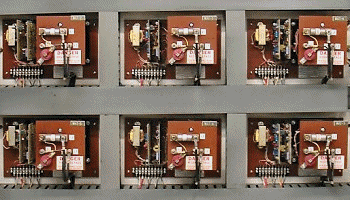 MULTI-ZONE OVEN CONTROL UPGRADE
Due to obsolete, drifting analog controls, down8:15 PM 8/23/2007-time due to frequent repairs and calibration is staggering. Modern technology steps in to save the day. Click on the photo for details and before & after makover pictures.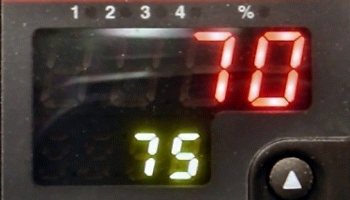 WASTE HEAT RECYCLING SYSTEM
Can energy waste be a good thing? It could be when you've been using it to heat an equipment space! After upgrading to a new, super efficient piece of equipment, personnel discover the equipment room was much colder than they realized. With some creative control of ducting, waste heat comes to the rescue. Click on the image for a description.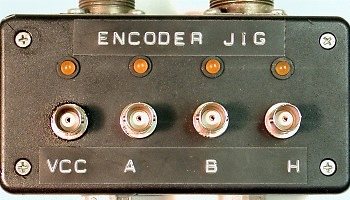 QUADRATURE ENCODER TEST JIG
I designed this fixture to aid in testing and troubleshooting optical quadrature encoders. It can be used as an in-line tester on the equipment, a bench tester, a breakout box, and in my case, a connector interface to mate differing connectors! Click on the photo for more information.