101 USES FOR YOUR DEAD
PHILIPS 30PW9100D HDTV
---
So your shiny new Philips TV just died? It doesn't matter whether it's the first time or the twentieth time it's dropped dead; that big, dark, imposing screen is just such an annoying distraction to your room decor. Well, don't despair. Here are a few simple things you can do to make your dead Philips TV carcass useful and productive while you're waiting for the Philips Customer Relations Department to come up with some new excuses.
MESSAGE CENTER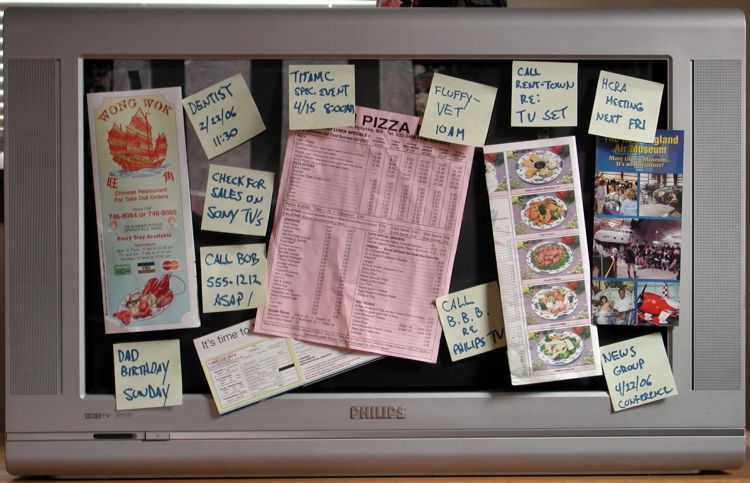 That large flat expanse of glass makes a great message center. Centrally located in your living room, where everyone is bound to see it. And if you've got teenagers, what better place to post messages than on something they're already used to staring at? The flat CRT face helps POST-IT notes remain securely attached, and the square corners allow users to stick POST-IT notes right up the very the edge of the screen, maximizing return on picture tube real estate!
RELIGIOUS SHRINE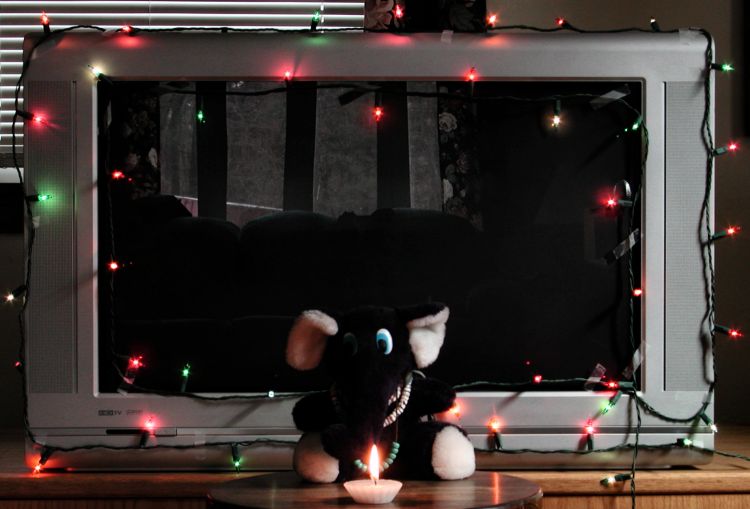 IMPORTANT NOTE: THE FIGURINE ABOVE HAS BEEN USED AS A VISUAL AID FOR DEMONSTRATION PURPOSES ONLY! IN ACTUAL USE, IT WOULD BE REPLACED WITH THE APPROPRIATE REPRESENTATION OF THE DIETY OF YOUR CHOICE.
If you own a Philips TV, you've probably contemplated taking up meditation or perhaps considered rediscovering your religious roots to fill the time you used to spend watching TV back when it was working. Now you can put your Philips TV back in service without sacrificing your spiritual well-being! The 30PW9100D's large, wide screen makes a perfect focal point for a meditation center or religious shrine. And since Philips Consumer Electronics in a word-wide multi-national conglomerate, your broken Philips TV will feel right at home enshrining any Diety, for any religion!
FINE ART DISPLAY STAND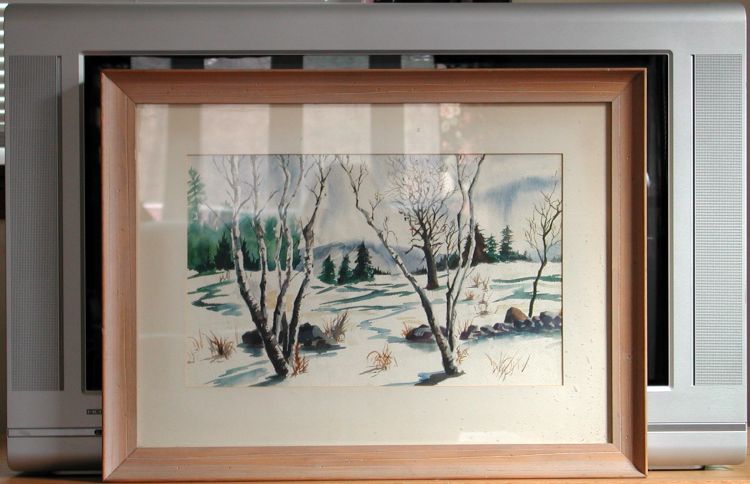 Why limit yourself to displaying fine artwork only on your walls? Your dead Philips HDTV will make any piece of artwork the focal point of your living room! It's wide screen is naturally suited to paintings of landscapes, while it's neutrally pleasing silver tone plastic enclosure will complment virtually any frame! If your preferences in fine art lead toward portraits or still life, you might be better off purchasing one of Philips standard sized (but equally unrelaible) 4:3 products.
PUPPET THEATRE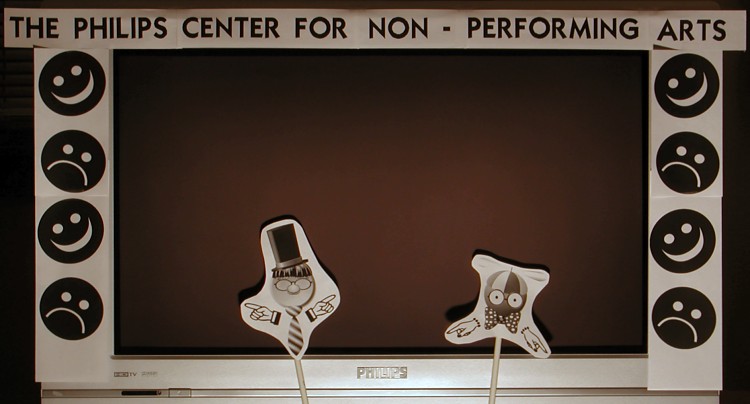 If you have small children, they're probably driving you crazy by now. After all, your Philips TV has been broken for what to them seems like an eternity. Here's a great way to keep them occupied while you're waiting for Philips to respond to that Better Business Bureau complaint you filed! Just a few minutes with a computer and some sheets of paper can turn your broken 30PW9100D into a top notch puppet theatre. Tape the puppets to some soda straws, and let the little tykes go at it! To kill some extra time along the way, give the kids some crayons and have them color their puppets before the big show.
MANTLE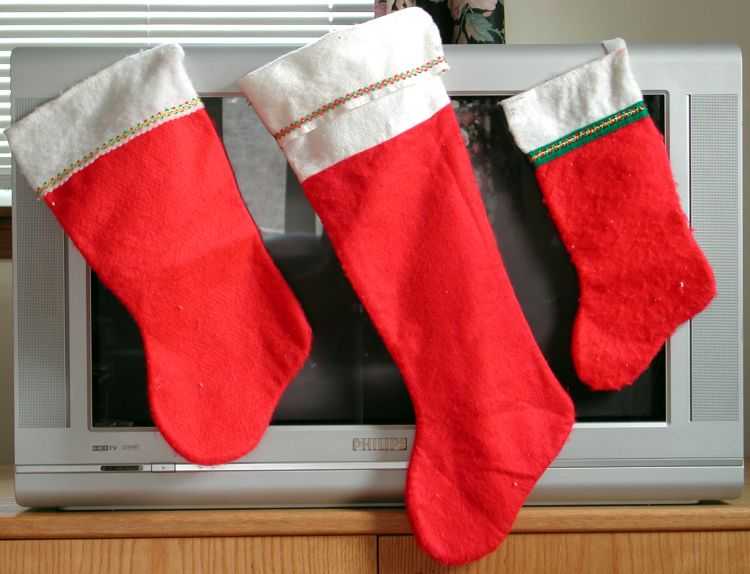 Are you stuck in an apartment or condo with no fireplace? Don't despair- your kids can still enjoy the thrill and excitement of hanging stockings on the mantle on Christmas Eve! The wide 16:9 screen can accomodates upto 3 large stockings, 4 regular sized stockings, or 5 small stockings.
BACKBOARD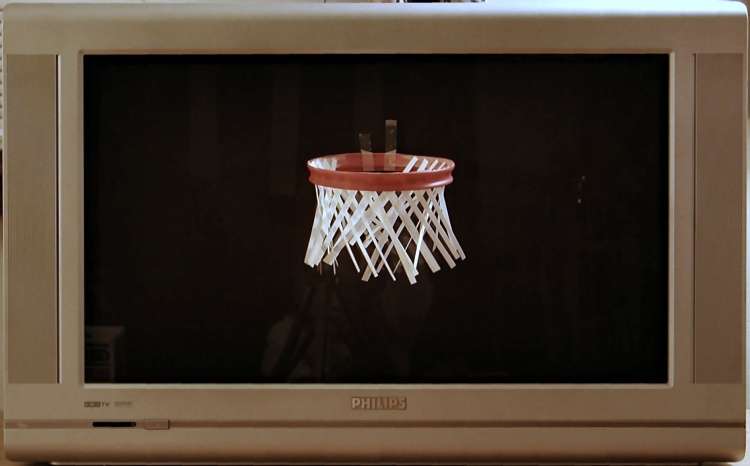 Here's another great project for Philips TV owners with young children. Your dead Philps 30PW9100D can easily be converted into perfect indoor nerf-style basketball hoop backboard! It's wide 16:9 aspect ratio helps it deflect shots which would normally fly right past those old-fashioned 4:3 screens, and it's hefty 135 pound weight guarantees it will stay in place, no matter how many times your little Michael Jordan wanna-be tries to hang off the hoop! Involve the kids in making the hoop, and it may help divert their attention from the fact they still can't watch TV! Make the hoop by cutting the top off a plastic coffee or sugar container, and tape cut-up paper strips to the hoop to create the net! Just tape the whole thing to the screen, hand out the foam balls, and let the games begin!
COFFEE TABLE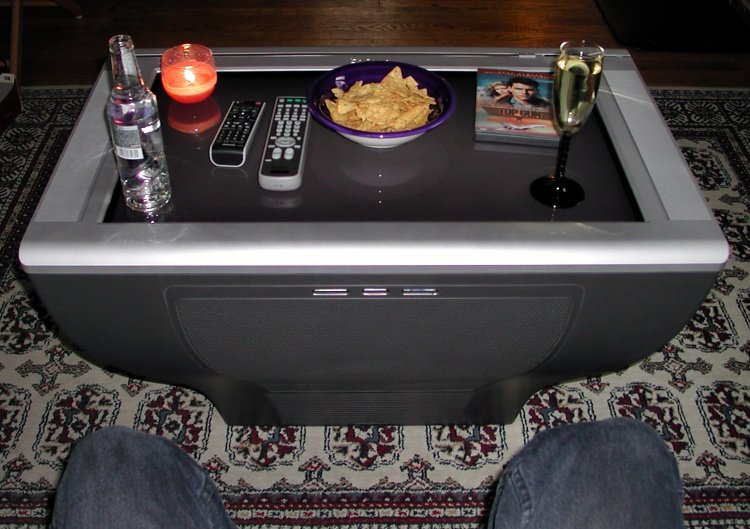 By now, you've probably gotten fed up waiting for Philips Consumer Electronics to address the dead carcass of an excuse for a TV set that's sitting in your living room, and finally gone out and bought a real TV. What do you do with your dead 30PW9100D carcass while the Better Buisness Lawyers and small-claims court sort thing out? Here's a novel way to enjoy both your new working TV and your dead, 6 month old Philips HDTV at the same time! Placed on its back, the Philips 30PW9100D makes an excellent coffee table. The flat faced CRT provides a stable surface for drinks, chips, and dips, while the curved top provides plenty of leg room! And the sculpted, two tone silver and grey cabinet will add an aire of post modern sophistication to any living room decor.
PET TOMBSTONE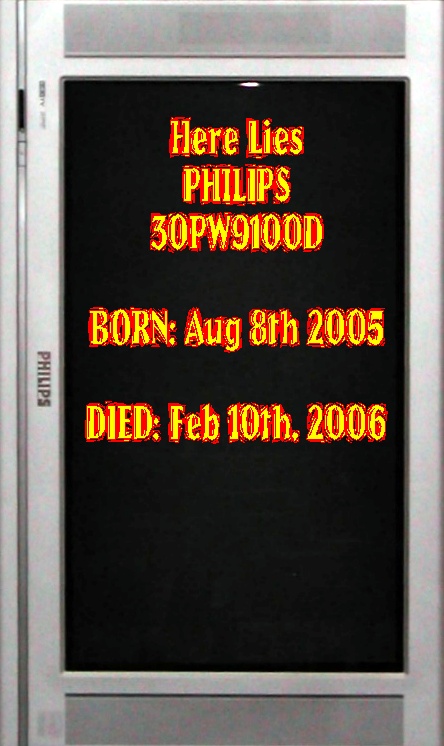 So Fluffy finally kicked the bucket? Spot's finally pushing up the daiseys? Honor and remember your pet with a personalized tombstone! When placed on its side, the 30PW9100D makes a perfect back yard tombstone. And the large glass area of the screen does double duty as a garden sun catcher, too! Just add a few dollars worth of stick on mailbox letters, and you're in business! Economical, too- as the cost of the stick on letters is far less than the $10 to $20 bucks it will cost you to toss this dud into the hazardous materials storage area of your local landfill!