---
KA1MDA'S RADIO EPHEMERA
Blasts from the past
---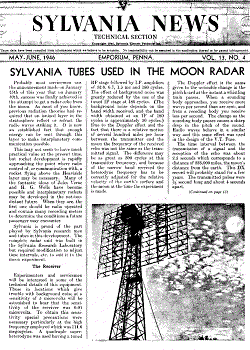 SYLVANIA NEWS - MOON RADAR
FROM SYLVANIA NEWS, TECHNICAL SECTION, VOL. 13, NO 4, MAY-JUNE 1946.
This article provides a detailed description of the tube line-up and circuitry used in the first successful EME attempts in New Jersey. Very interesting reading. It's quite amazing what they had to go through dealing with drift and doppler shift. It's all so easy now! Click on the thumbnail at left to read the article!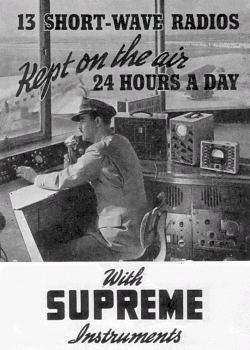 SUPREME INSTRUMENTS ADVERTISEMENT
FROM RADIO RETAILING, PAGE 17, OCTOBER 1938
Read all about what it takes to keep the world's busiest airport's radio equipment up and running! Very funny by today's standards. Click on the thumbnail at left to read the advertisement!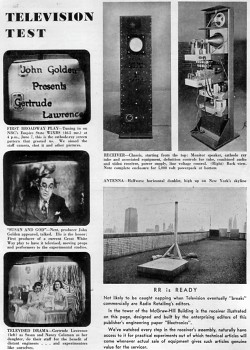 EXPERIMENTAL TELEVISION RECEIVER
FROM RADIO RETAILING, PAGE 65, JULY 1938
Looking towards the future, Radio Retailing checks out what's on the experimental airwaves in 1938 using a home-brew, 6 foot tall monster TV receiver with enough exposed high voltage wiring to make Heathkit afficionados salivate! As the magazine states, they dont want to be caught napping when "television finally breaks commercially". Click on the photo at left to check out this monster!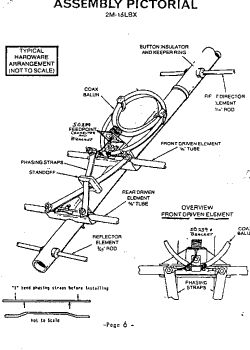 KLM 2M-16LBX 2 METER ANTENNA
ASSEMBLY INSTRUCTIONS
These antennas seem to show up regularly on the used market. I bought mine second-hand over 12 years ago, and luckily it came with the manual! I have seen quite a few postings on the net where someone has picked one up, but cannot find assembly instructions anywhere as KLM has long gone out of ham antenna business. Here is a scan of the assembly manual. The image quality isn't the greatest, but it's good enough to help get your KLM 2M-16LBX back on the air! Click on the image at left to see the manual.