Welcome to Boxes by Denis
"Turning works of nature into works of art!"
All boxes are hand crafted using only the finest exotic hardwoods, such as South American Bloodwood, Australian Lacewood, or African Padauk, to name but a few. These are select 100% solid hardwood, not wood veneer! Exotic premium hardwoods are carefully selected based on their warmth, charm, and beauty. Each piece is then painstakingly matched for grain and color. The wood combinations are individually selected for each box based on the interplay of color, grain, and character.
The finish consists of 5 separate sanding operations, ending with an ultra-fine grit wet sanding. After applying Tung oil, the wood is then buffed and hand-polished to an almost glass-like luster! These boxes are never stained or dyed- you see only the natural color, beauty, warmth, and character of the wood!
Jewelry boxes typically measure approximately 14" long, 8 ½" wide, and 3 ¾" deep. The interiors are lined with premium quality black velvet and feature a removable sliding tray. These are not mass-produced, production-line items. Each box is custom made, one at a time, by me. All operations, from the initial selection of raw materials to the final buffing, are all performed by one person- and it shows!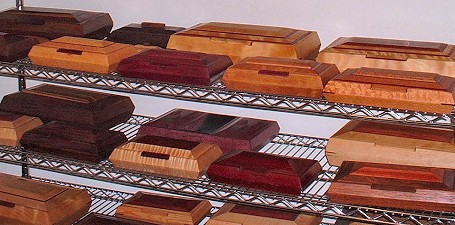 Click on the image to view the Jewelry Boxes

Email for availability & pricing information