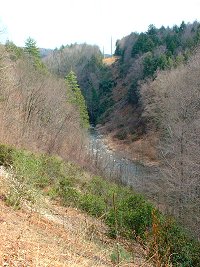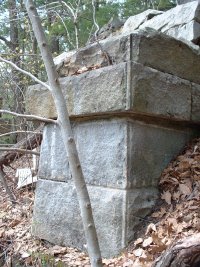 Conway
Electric
Street
Railway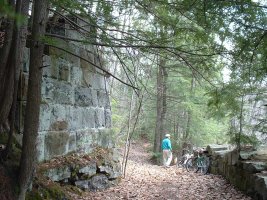 Stone abutment on the western side of High Bridge near Conway Station. The NYNH&H RR crossed the South River (just out of view on right)via this bridge, while the Conway Electric Street Railway tracks looped below the bridge and followed the river as they descended toward Low Bridge. Photo at left was taken from the old CESR railbed travelling toward Low Bridge.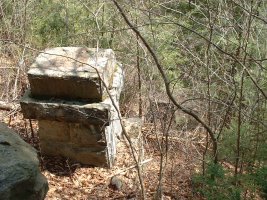 Stone footings on west bank of South River for High Bridge. They are difficult to see due to the heavy brush and rugged terrain. These are most easily seen between late-fall and early-spring. There are pairs of these footings descending all the way down the steep banks of the western side of South River.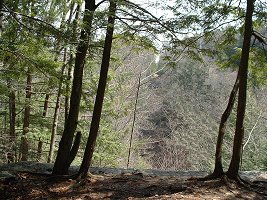 View from top of stone bridge abutment, looking across South River. This shot gives a good perspective of the width and elevation of spanned where High Bridge once crossed. You can still see part of the NYNH&H RR right of way on the other side- it's the tiny clearing near the top of the picture between the 2 trees!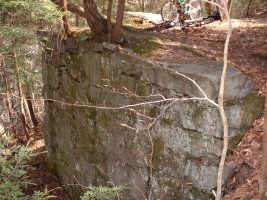 Abutment for Low Bridge on south bank of Deerfield river.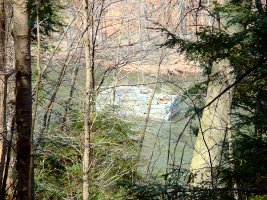 Stone piling in Deerfield river used as center support for Low Bridge.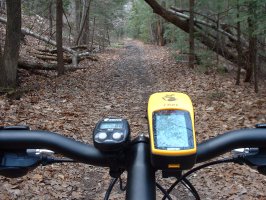 Heading west along the old NYNH&H RR track bed toward Bardwell's Ferry Road. The GARMIN ETREX GPS receiver on the right is used for marking waypoints and generating track logs of rides, which are then exported to a PC and plotted on topo map, just like the one farther down. The small black unit on the left is a combination odometer, trip odometer, and speedometer.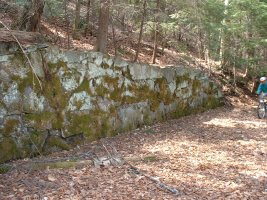 Retaining wall along old CESR track bed near Low Bridge.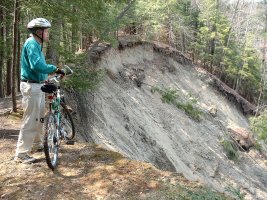 Looking west at giant landslide along old NYNH&H RR right of way.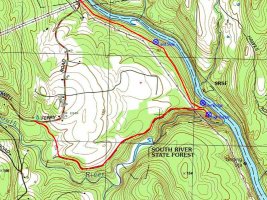 GPS generated topo map of bike trip to Conway Station, including markers for Low Bridge, High Bridge, and the big landslide! The lower track begins at Bardwell's Ferry Road and follows the CESR route east past High Bridge and out to Low Bridge. The track from High Bridge heading north-west past the landslide is the old NYNH&H RR. Conway Station would have been located somewhere between the 2 tracks, probably near the small loop shown on the map. Click on the map at left to get a full-size image.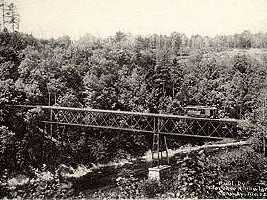 CREDITS: To be honest, I wouldn't have had a clue as to what I was looking at on this bike trip if it weren't for Alfred Barten's excellent web site on the history of the Conway Electric Street Railway. His site is full of great information, including route maps and descriptions, and photos (such as the one of Low Bridge at right). To learn more about the CESR or the Shelburne Falls & Colrain Street Railway, click on the picture at right to go to his web page.